macworld.com
Many of the fitness apps available for download in the App Store try to cover different aspects of your workout regime, from offering instruction videos to counting the calories you've consumed and burned. Pocket Workout, in contrast, is only concerned with one thing—tracking your workouts and measuring your progress toward a stated goal.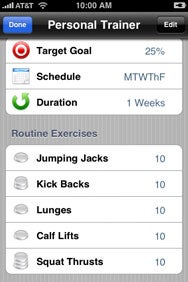 Sticking to Schedule: After you set your target goal in Pocket Workout, you also set a workout schedule, including what days you'll workout, what exercises you'll do, and how long your program will continue.
In that sense, SaltLick Labs' $2 app is a sort of computerized personal trainer. The developer even calls the main part of its program the "personal trainer," acknowledging Pocket Workout's focus.
But this personal trainer isn't right for everybody. Pocket Workout seems geared toward intermediate users people that already know how to perform calisthenic exercises. The app does not provide any instructions on how to perform any of its nine workout routines—no written commands, no photos, and no videos. There's not even a Web link to definitions, so users wondering what "kick backs," "wide pull-ups," or "flutter kicks" are—let alone how they're performed—will have to conduct that research on their own. To be fair, Saltlick Labs makes this all clear on Pocket Workout's App Store page; still, the omission of even a simple description or some type of illustration limits the utility of this app for some users.
That said, if you know how to perform basic calisthenics, Pocket Workout can help you along as you chart your progress. When you first launch the app, it asks you to setup your personal trainer. You enter your current vitals—height, weight, and BMI—and take "before" photos for comparison purposes. After you set your vitals, you're ready to get started with the personal trainer.
Every workout in Pocket Workout is designed around a target goal and a schedule. After you set a target goal, you also set a schedule with the number of times per week you want to work out and the number of weeks you want to continue working out. Pocket Workout includes a thorough help file to walk you through any questions about the setup of the personal trainer.
Workout plans may last for as little as one week or as long as one year. All workouts are comprised of different exercises—you can choose as many or as few as you'd like. You can add exercises from Pocket Workout's database, where they're divided by difficulty, or you can enter your own exercises. Adding exercises is easy, though I couldn't find a way to remove any from the database.
The ability to add multiple individual exercises to a single workout plan is a key feature of Pocket Workout, since the app can only remember one complete schedule at a time. Still, Pocket Workout does keep track of all your goals, targets,and vitals as you complete your workout schedule. The app provides charts to graph your progress in each category: weight, BMI and so forth.
Pocket Workout also includes Twitter integration via a "motivation" page full of tweets from other users using the software to track their workouts. You can tweet your progress right from within Pocket Workout.
Pocket Workout is an ideal application for business users or frequent travelers that are already familiar with these types or exercises. Beginners will likely want to see examples of how the exercises are performed, something you'll find in an app like iFitness, but not in Pocket Workout at this time. Still, Pocket Workout delivers what it promises—it's a good exercise tracking tool for intermediate users or anyone that already exercises and wants an effective way to chart their progress.
Pocket Workout is compatible with any iPhone or iPod touch running the iPhone 2.x software update.
Review: iFitness for iPhone

Starting a workout routine, especially at a gym or health club that probably includes sophisticated weight and resistance machines, can be an intimidating prospect. Deciding what exercises to do and then figuring out how to do them can be difficult, especially if you don't have a personal trainer and the club is understaffed or overcrowded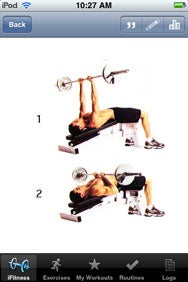 Pumping Iron: When you tap on an exercise in iFitness (in this case the decline close-grip bench press), you are first presented with two images displaying its setup and sequence of motions.
But using iFitness for the iPhone and iPod touch can be a great help to newbie gym-goers. The app from Medical Productions includes simple graphics and instructions for more than 150 exercises, and sports an elegant interface that can be easily tapped (no pun intended) between sweaty sets. For those with a passing familiarity with weight machines and free weight techniques, iFitness's breadth of exercises, descriptions of what muscles are being worked, and logging capabilities may be appealing.
iFitness packs a lot of capabilities into a $2 app squeezed onto the 3.5-inch diagonal display of Apple's mobile devices. When considered simply as a reference, iFitness is impressive. Each of its exercises can be accessed via three list views: by muscle group (abdominals, arms, back, and so on); by muscle (tap a body part, and the name of the muscle comes up; the second tap brings you to exercises for that muscle); and alphabetical by exercise name (starting with "ab crunch on a ball," and ending with "Zercher squat").
When you tap on the exercise, you're presented with a graphic including two images of a person performing the exercise. These images are often sufficient to provide a basic understanding of how to complete the exercise. But if you want more information, you tap a quote mark icon at the top of the screen, which brings you to the flip side of the graphic, and a text description. The text is in a medium-sized black font on a white background, which makes it easy to read.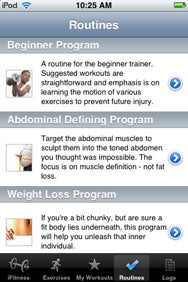 Exercise Regime: iFitness includes nine programs or routines, designed for beginners, travelers without access to weight machines, and goals such as weight loss and abdominal defining.
After you've finished the exercise, you can then tap on a pencil icon at the top of the screen and enter in the weight lifted (when appropriate), the number of reps, and notes. These are then added to your log, which you can view by date or by exercise. You can also edit your log and, to get a "big picture" view of your progress, view a graph of your progress and e-mail your log data to yourself. The data is sent quickly and arrives as a CSV-formatted attachment, which you can then view with a desktop spreadsheet application. The desktop display is simple and elegant.
iFitness includes nine routines (with more to come, according to the developer). These include routines for the beginner, abdominal defining, weight loss, muscle building, strength building, and more. There's a "business" routine that includes only exercises you can do without gym equipment. (Many of the exercises require you to use free weights or weight or resistance machines). Each routine includes not only a list of exercises, but also a suggested number of sets and repetitions.
The program also includes the ability to add your own custom exercises, with the two-sided card format as the program—you can import images, include details about the target region, the target muscle, and the difficulty, and provide a name for the exercise and a text description. This capability might make iFitness especially appealing to physical therapists who would like to add exercises and create custom workouts for their patients, and to sports coaches as well. When you add your own exercises, they're seamlessly integrated into iFitness's list of all exercises in alphabetical order and by muscle group.
The app does have a few shortcomings. Some of the exercises simply don't lend themselves to a two-photo graphic depiction, and could benefit from a four- or five-photo sequence or a short video. In addition, many people begin fitness programs with weight loss as a primary goal, yet the app doesn't yet provide even simple weight tracking capabilities.
"Doesn't yet" is the key phrase here: these are minor criticisms of an outstanding app supported by a developer who frequently updates with new features and capabilities. For both beginning and intermediate fitness enthusiasts, iFitness is a compact, handy, and surprisingly thorough exercise guide and log, and is especially attractive when you consider its price tag.